QVV Image Viewer and Browser
"The truth is rarely pure and never simple." -- Oscar Wilde
Description | Author | About/logo artwork | Screenshots | Download
Short Description
QVV is image viewer based on TrollTech's Qt Toolkit.

NOTE: QVV 4.00 AND LATER VERSIONS REQUIRE QT 4.xx+!
QVV is targeted for keyboard-use and simple interface. Nearly all features can be accessed with keyboard. Mouse is used mostly for settings changes. It depends only on Qt library. Since QVV is pure Qt application, it can run on any platform supported by Qt: Linux, UNIX/X11, Mac OS X, Windows.
Author

  Vladi Belperchinov-Shabanski "Cade"
  mailto:cade@bis.bg
  mailto:cade@biscom.net
  mailto:cade@datamax.bg
  http://cade.datamax.bg/qvv

Feel free to contact me anytime with any notes you have about QVV.
About/logo image!
The image that is used as QVV about/logo and on the top of this page is called
"Green woman"
.
It is artwork by Valentina Kallias and is used with permission.

  author: Valentina Kallias
  email:  vali AT kallias.com
  http:   http://valentinakallias.deviantart.com/

Screenshots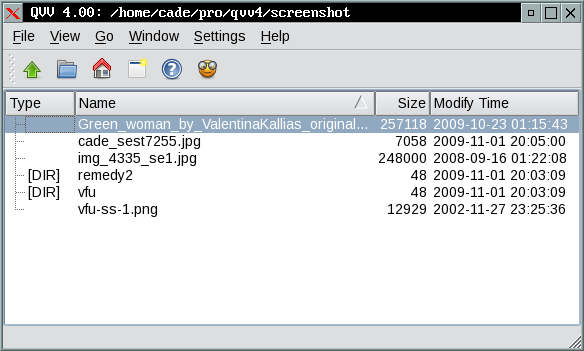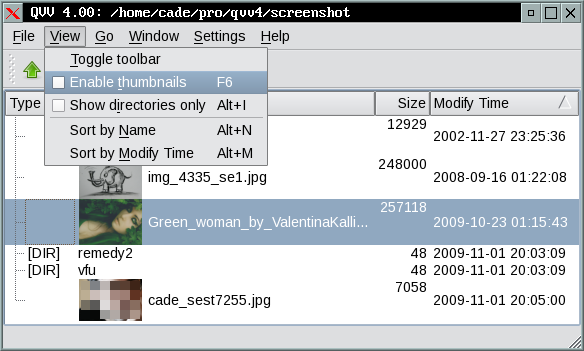 Download
Attic
Sun Nov 1 2009
9'889'412 bytes